Uttarakhand Weather: Season's first snowfall in Auli
The forecast of light to moderate rain from the mountains to the plains for three days after the Western Disturbance was activated told by the meteorologists. There is a possibility of heavy snowfall in areas with a height of more than three thousand meters and dense fog along with cold waves in Haridwar and Udham Singh Nagar. Meanwhile, Joshimath Auli including Badrinath and Kedarnath received the first snowfall of the season. Today on Thursday morning the hills were seen covered with snow.
Due to the increasing outbreak of cold waves in the state, all the schools from class one to 12th in the plains will remain closed till January 15. The weather changed course and the high-altitude areas including Badri-Kedar received the first snowfall of the year on Wednesday. It was snowing till late evening. It is getting cold due to snowfall. The temperature in Kedarnath will be minus, yet the reconstruction work is in progress here. More than 100 laborers are engaged here.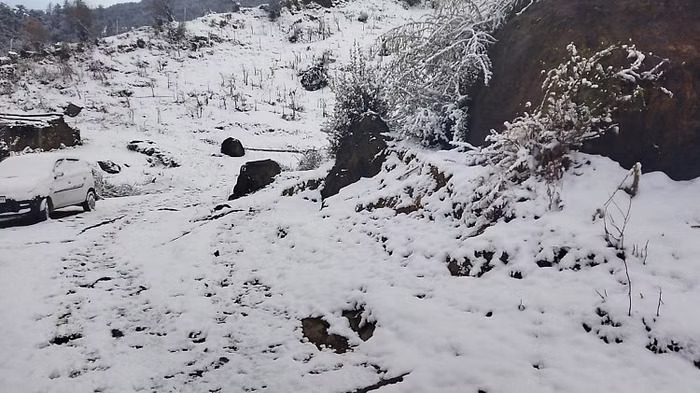 Along with the peaks of Hemkund Sahib, Rudranath, Gaurso, Nanda Ghungti, Niti and Mana Valley and Yamunotri also received snowfall, which has increased the cold.
Garhwal current weather
First snowfall of the year in Auli
Season's first snowfall in Kedarnath
Snowfall in Badrinath
Snowfall in Yamunotri
Snowfall in Hemkund Sahib
Snowfall in Gangotri Dham
Thick clouds in Srinagar 
Cloud cover in Rudraprayag.
Dense clouds in Karnprayag, Narayanbagad, Gairsain, Tharali, Adi Badri
New Tehri is sunny in the surrounding areas
Weather in Kumaon
Partly cloudy in Jeolikot
Partly cloudy in Lohaghat
Sunshine in Champawat.
Weather in Pithoragarh is normal, partly cloudy
Partly cloudy in Almora
Partly cloudy sky in Bageshwar
Light clouds and sunshine in Tanakpur
Fog in Bajpur
Sun shines in Ramnagar
Light fog in Rudrapur
Kedarnath received its first snowfall of the year, so the hills all around were covered with a blanket of snow.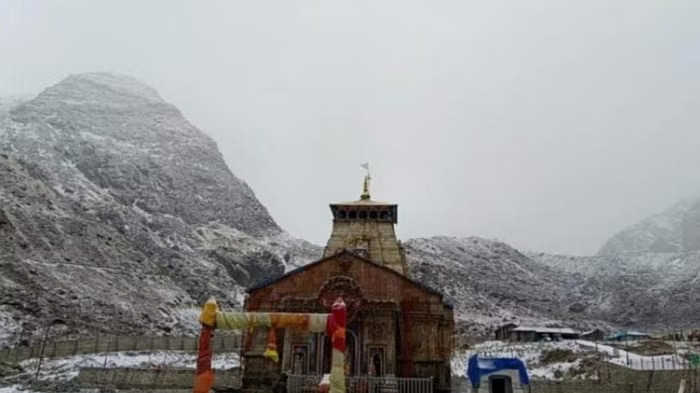 In Kedarnath, the temple complex, including the temple road, has been covered with snow. Along with this, the outbreak of cold waves has increased.
Kedarpuri recorded a maximum temperature of 6 degrees Celsius and a minimum of minus 4 degree Celsius.
While there is snowfall on the nearby peaks including Yamunotri Dham, the lower part of the Barkot tehsil area is cloudy.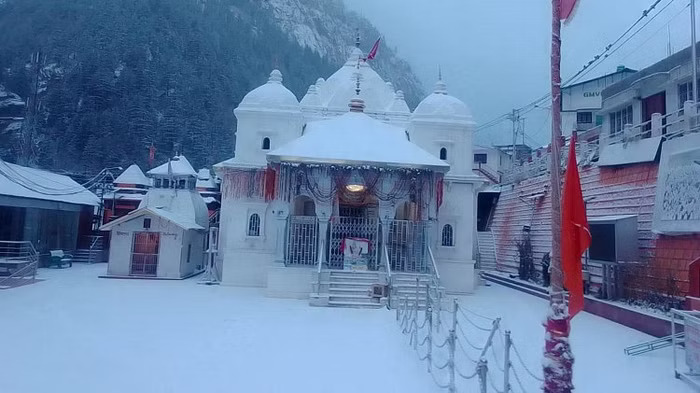 Snowfall in the higher reaches and rain in the lower reaches.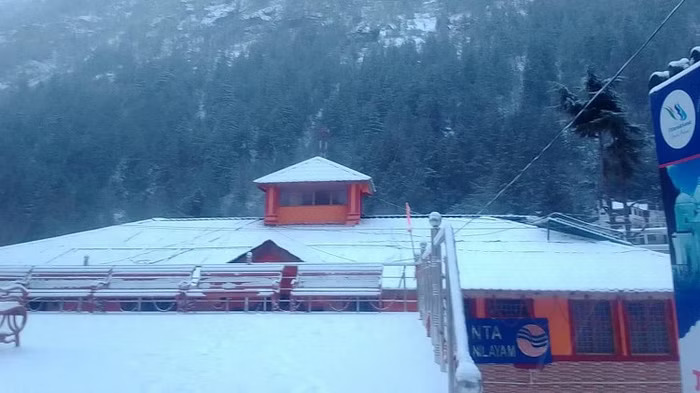 In Joshimath, there is light sunshine amidst the clouds in the sky. Snowy winds are blowing.
There is snow on the peaks near Joshimath. There the outbreak of cold has increased.